Hey, look at this fan-made cover of vN!
Hey, look at this fan-made cover of vN!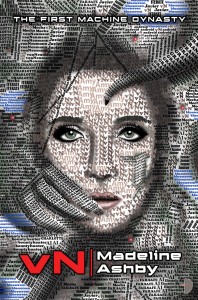 This was Carol Riggs' third-place contribution to Angry Robot Books' competition to re-imagine their covers, and as it turns out, Carol also took first place, for illustrating one of Anne Lyle's novels with an Etch-A-Sketch. An Etch-A-Sketch, people. Your own artistic talents are officially meaningless, in the face of that achievement. (Also, don't piss off Carol. She clearly has the patience and attention to detail required to orchestrate a slow, painful act of retaliation.)
I should add that I'm really flattered that someone even considered my book for re-crafting, and over the past couple of days I've gone back to look at it over and over again. It's a careful, loving interpretation of the book in visual form, and I'm tickled by it. Thanks, Carol.